I was given carte-blanche on this one and I have proof.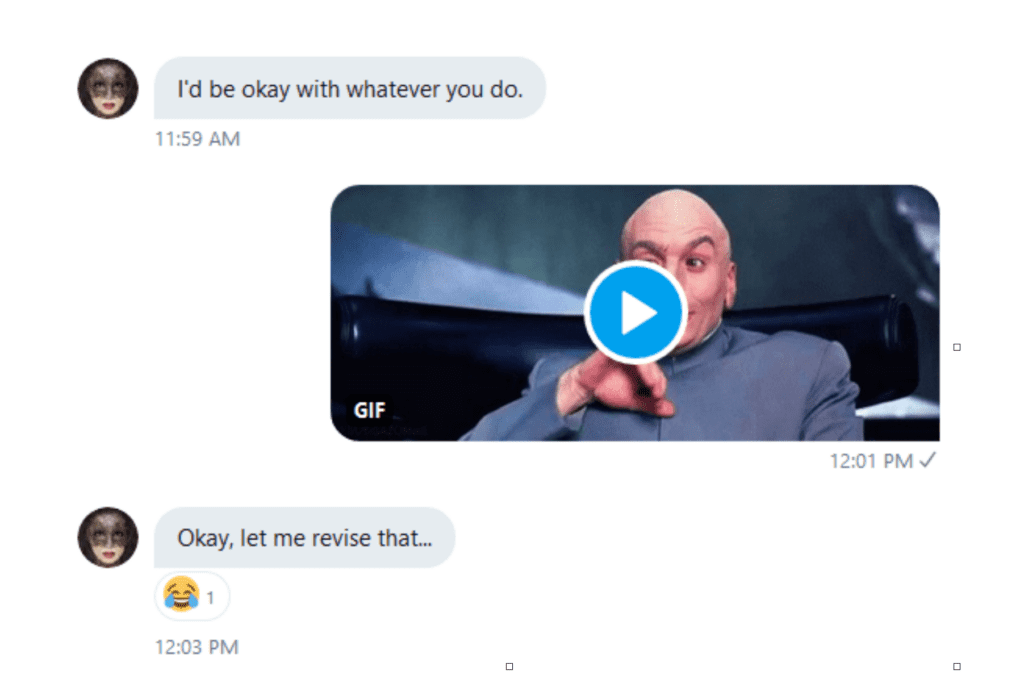 TOO LATE!
People ask me what I talk about with Ms. Shelby Kent-Stewart like she's some kind of celeb or something. Is she? I normally actively avoid those types so it's entirely possible she could be famous without my being aware of said fame. If she is, PIMP MY DAMN BOOKS, damn you! Better yet, just send money—lots of money—to secure our fiendship. (Not a typo.) Why the puck (Not a typo.) do the masses worship celebrity, adopt their causes, and hang on their every word? Are they bereft of independent thought? If you spend any time with celebs, as I have, you will quickly see they are gifted orators at best and only when handed a decently written script. They are the presenters of ideas; not the creators. Did you know Shelbot is a speech writer? Nuff said.
"Is it sex?" they ask. Never, except that one time I accidentally sent a sexy pic—not of myself—to the wrong chat box. She took it well. Now that I think about it, I better change never to rarely as one time she did tell me how two of her feral cats were going at it outside her window as we were chatting. Apparently, they live under her pool-house. Yeah, she's got a few quatloos in the bank, and I've flipped her the bird on more than one occasion because of it. Like that time in March when she sent me a pic of her catching some rays poolside while I had been shoveling snow all day. I used both hands for that one.
"You must talk books?" We do . . . but mostly about how we are not writing them because of "worldly" shit we just cannot seem to ignore—brought to us, in massive daily doses, by all the social media platforms we are on, or in my case, was on. For Shelby, it's about the bat shit crazy stuff going on in the U.S. which she feels compelled to speak out about. Hers are more noble causes than mine because she is trying to affect change locally. I gave up on that long ago, preferring instead to shout "I TOLD YOU SO." every time there is another simultaneous "completely coincidental" loss of freedom in the U.S., Canada, the U.K., Australia, and a handful of European countries as a result of forced globalism enabled by the huddled masses who believe billionaires actually do want to "make the world a better place". . . which of course they do . . . for themselves.
"What DO you talk about then?" What do friends usually talk about? It ranges from the weather, to health, to whatever we need to vent about, to me trying to get a laugh out of her because I'm the funny one. Oh yeah, I bug her to plug her books more often too—something she is not comfortable doing—which she turns into 'Why don't you guest blog for me because I need to blog something and have eight books I'm working on.' Who does that? She thinks I don't see how she turns that around on me, but I do, and yet here I am, doing her bidding. I really must work on my people pleasing—Strike that!—my Shelby pleasing. Lately, I've been keeping her abreast of twitter's takedown of my @EABarker1 page for, as stated on my new LinkedIn page (which has yet to be indexed by Google for some strange reason):
"It seems you cannot use social media as a soapbox to shout your anti-divisionist; anti-Nazi; anti-racism; anti-patriarchy; anti-status quo; anti-war; anti-dumbing down of public education; anti-mega-corporation; anti-corruption; anti-drug; anti-social media mind control; anti-rise of the phone drones. . . ideals without having your blog suppressed by fakebook, your twit page suspended, and your book sold at a loss by the world's biggest online retailer. I have learned my lesson so I will just talk about my books here."
Today we talked about doing a podcast called Societal Manipulation For Dummies with your hosts Shelby Kent-Stewart and E. A. Barker. I put her name first because of the fame thing. We were ranting about twitter when I wrote the following:
'The obvious conclusion is the primary function of social media, aside from data collection, is to agitate users. The unsuspecting can be worked into a frenzy, causing them to take to the streets, at which point the use of force by jackbooted storm-troopers can seem justified.'
From there we laughed at the possibilities of a podcast amidst the fall of civilization.
I can hear the opening of our first show now. . .
"Off the top, I'd like to point out that the opinions of my co-host are not necessarily shared by me. For example, I think the US President has a proven track record of helping children, doesn't he? I'm sure I read that somewhere on the Interweb."
Will a podcast ever happen? I'm willing if I see a large cash infusion associated with the activity. Shelbot, get your agent busy on this.
"SHOW ME THE MONEY!"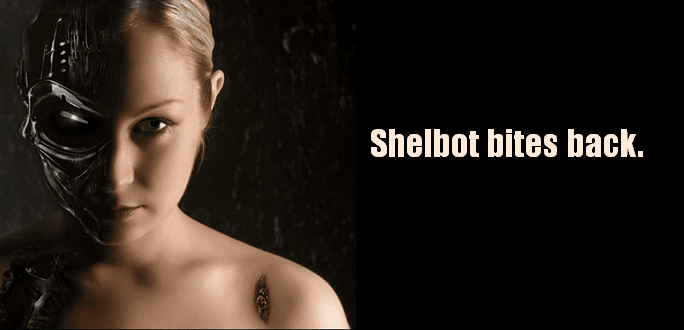 Where do I begin?
For starters, I'm a celebrity like Jill Biden is a Trump supporter. NOT. Most celebs are cool and I'm the anti-cool. The only time I've walked a red carpet is at my local Cineplex. There was that time when I tripped in a darkened theater due to faulty lighting and an usher pacified me with a gift bag of popcorn. Does that count?    
Odd that I don't recall sending him a photo of "catching some rays poolside." I'll confess I might have been tempted had I known he was up to his tighty-whities in snow. Having fled the arctic climes of the American northeast, I should be more sympathetic but this is E. A. after all and, well, 'nuff said.     
He's correct about the caterwauling outside my window and here's an update: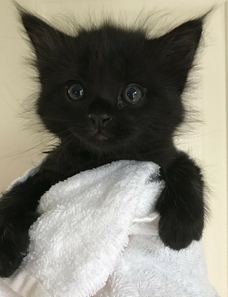 Approximately two months later, I became a foster mom to a litter of the cutest jet-black kittens ever.
I'm a sucker for a pretty face, and since black cats are the least likely to be adopted from a shelter, it appears my fur-family has grown exponentially. Now if I can facilitate a truce between my feline and canine rescues, life might get back to normal.      
For the record, it's a gazebo, not a pool house. Who the does he think I am, Lindsey Graham?
And what in the bloody hell is a quatloo? It must be a Canadian thing. I'm envisioning a 4-seater outdoor privy, but that can't be right — unless he's kinkier than I thought.
As for the rest of his blog, he nailed it. Many of us are hopelessly addicted to platforms that serve themselves and truth be damned! It's about algorithms and egos and revenue that allow the CEOs to live like kings, while we mere mortals do their bidding.
Something has to change and it begins with us. ~ SKS

Want more of E. A. Barker?

COMING SOON! The $1.99 Author
Snarky non-fiction
e-book on D2D
There are more myths and legends in the book publishing game than can be found in ancient Greek literature.
The $1.99 Author offers a pragmatic look at today's publishing options for both budding and previously published authors. Almost every conceivable publishing path is touched upon with the pros and cons of each laid bare. This book is free of sugar-coated empty promises of success. Instead, readers will be made to understand there is a ladder awaiting them, and The 1.99 Author shows us how to climb it safely without going broke, without getting taken, and without too many heartbreaks.
The You & I Erotic Tales Series:
Trilogy paperback:
US: B&N http://tiny.cc/fxndsz
UK & IRL: Waterstones https://tinyurl.com/y5vg9mwt
CA: McNally Robertson https://tinyurl.com/y5h926pg
AU & NZ: Dymocks https://tinyurl.com/y48l34tb
SA: Exclusive Books https://tinyurl.com/y267wzno
E-books:
https://books2read.com/ATakenTale
https://books2read.com/AnOnlineTale
https://books2read.com/ASeductionTale
Ms. Creant: The Wrong Doers!
Life With Women: The Long-Awaited Instruction Manual.
Large Print Paperback and Hardcover:
US: B&N https://www.barnesandnoble.com/w/ms-creant-e-a-barker/1124714753?ean=9781773021324
CA: Chapters https://www.chapters.indigo.ca/en-ca/home/search/?keywords=Ms.%20Creant%3A%20the%20wrong%20doers
UK: Waterstones https://www.waterstones.com/books/search/term/ms++creant++the+wrong+doers+
E-books: