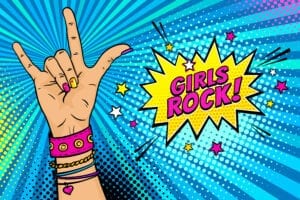 I'm not a musician, but I grew up blissfully surrounded by music. One might say it was fate that I'd end up writing a rock band themed story; it was just the lesbian romance part of it that ended up being a fun surprise.
I probably should thank my dad for molding me into a lover of rock and roll. While other kids were growing up on kid-friendly tunes from Sesame Street, I was given an education in The Beatles and The Moody Blues. From the time I could sit up without toppling over, I remember being placed in front of the stereo and with dad's headphones swallowing my toddler head. I'd stare wide-eyed at the big vinyl album cover art of these musical geniuses. I was amazed. It was like being transported into another dimension. I learned from a very young age that music had a sort of magical power, and I would continue to seek it out throughout my life.
By grade school, Dad deemed it time to introduce me to rock icon David Bowie. I remember watching a grainy concert of his on VHS, and it was truly out of this world. He wasn't just a rocker; he was an artist. Another taped concert I distinctly remember watching was one by the female-led band Heart. How about that? Women could rock, too!
When other teeny-bopper girls might have gotten into New Kids on the Block, I was obsessively listening to Dad's discography of The Doors. At that point, he was adding CDs to his collection, not just vinyl records, so I'd borrow the much smaller compact discs and listen to them on my own boom box in my bedroom. I memorized the Lizard King's lyrics, fascinated by the alluring power of Jim Morrison and his psychedelic band.
Right before high school, I met my long-time best friend who introduced me to 80s and 90s rock. Her favorite rocker of all time was (and still is) Ozzy Osbourne, so I got an education in all things Prince of Darkness. Around that time my knowledge also grew of sexy femme fatales Blondie and Joan Jett (more women in rock, yes!), and before long, Misty had helped me transform my conservative wardrobe into something worthy of attending one of these rocker's shows. We'd get dressed up, experimenting with shiny black eyeliner, tight blue jeans, knee-high leather boots, and sequined V-neck shirts. Like imaginary groupies, we'd drive up and down the local Texoma streets with Pantera cranked up on her car stereo. (Fun fact: Misty's mother was an actual groupie. She'd been with the Pantera guys as well as other bands, so I got to hear about some of the juicy behind-the-scenes stories of rocker lifestyle.)
Into college, I became obsessed with Led Zeppelin and Metallica. I bought their entire discographies, watched concert footage on DVD, and read biographies. I watched all the documentary footage I could get my hands on. I couldn't get enough. As an adult, I expanded my love of rock to many other bands spanning the spectrum of multiple genres of rock.
Once I started making my own money, I was able to finally attend some live shows in person, which ultimately led me to the quintessential rock experience: meeting the Prince of Darkness himself in 2018 with Misty. At that point in time, Misty was a mother and had named her son after her idol. That show was one of the most amazing concert experiences of my life. I'll never forget it.
Soon after that, I started work on The Neon Fishnets trilogy, blending my love of rock and roll with the literary genre I'd been having so much fun writing: lesbian romance.
***