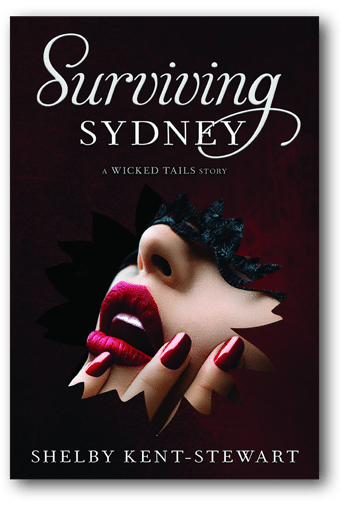 Sydney Forrest has secrets. A forensic scientist for a clandestine international firm by day, by night she assumes whatever identity is needed to search for those who are lost, the ones time has forgotten.
Returning to the States from a two-month assignment in Bahrain, Jordan Dunham wants answers. A mysterious disc has shown up, one that could ultimately blow their cover and endanger Sydney's life. But as much as he wants answers, there's something he wants even more, Sydney, the enigmatic beauty always just beyond his grasp.
When she narrowly escapes an attempt on her life, Dunham will use everything in his military and professional background to keep her safe and draw on everything in his emotional arsenal to make her his.
Book 1 in the Wicked Tails Stories | See All Wicked Tails Stories


Disclosure: We receive compensation as an Amazon affiliate. Click here for more information.
Amazingly Sexy and couldn't put it down – 5 out of 5 Stars
So I bought this for my girlfriends birthday present and downloaded onto her ipad as a surprise, but the cover seriously looked so amazing. I started reading the first page and damn i was hooked. I havent been able to put it down. Im a 30 something male and would have never ever read one of these books. Until NOW. This has be the sexiest smoothest read of any book Ive ever seen before. Two words…Gimme More. I just downloaded her next book and can't wait to start reading it. PLEASE keep them coming. I love it all keep my mind exploring sexuality like I never thought I could before…PS my girlfriend is going to love me now 🙂
They have to make a movie of this ! – 5 out of 5 Stars

They have to make a movie of this ! Okay, it wouldn't be G rated (but who watches those unless forced to in a plane or accompanied by children ?) but it's got all the elements, a great who-done-it plot, a mysterious villain, attractive (okay, gorgeous) main characters, action, violence, Hot Sex, psychological twists, slightly Kinky Sex, make-you-blush-even-when-reading-it-alone Erotic Descriptions and – best of all – some of the most realistic, funny, colloquial (but never vulgar) dialogue since Elmore Leonard (May He Rest In Peace) left the scene.
Who else could write, "It was just the look I was going for: Pebbles Flintstone on Crack…" ? And the whole book is like that – witty put-downs, snappy come-backs and more unexpected comparisons and plot twists than you could imagine, besides the fact that you get narration from two different viewpoints – from Sydney and also from Jordan, which somehow increases the sexual tension.
The erotic descriptions that get us squirming as we read the story might not be able to be spelled out on screen, but a good film director would be able to get the ideas across without so many words (remember how you knew exactly what was going on in Body Heat and The Big Easy and Don't Look Now…? ).
What I haven't been able to decide is: Who could play Sydney ? Has to be smart, hot, and also able to make you laugh without losing her sex appeal (so, no Phyllis Diller or ZsaZsu Pitts types)… In the old days it could have been a young Rosalind Russell or Eve Arden (long before Our Miss Brooks — but they didn't make movies like this back in the Year of the Black Snow, did they?)
My best candidate might be Sandra Bullock or Katherine Heigl, who did a great Stephanie Plum. But this has got to get to the Big Screen – if there are more novels like this from Shelby Kent-Stewart, it could become a film dynasty to rival the Lethal Weapon series!
Great novel! Bring on some more!
A Dark Sexy "Must Read" – 5 out of 5 Stars
This again was a present for my recent engagement from a friend. I LOVED IT! I am now head-over-heels for this author. This book was dark, steamy and so wonderfully written I could almost feel the characters jump out of the pages. She captured me in a world so complex and pleasurable that I was sad when I had finished it. My only solace now is knowing that she has plenty more books for me to read. I have no doubt that she is one of the best erotic fiction writers in America. I shall now be reading her every work.

Keep them coming Shelby, they are an amazing and fantastical escape into a sensual world.
READ THIS BOOK! You will definitely be missing out if you don't.