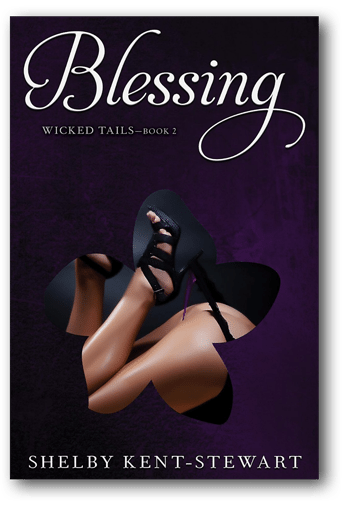 A prolific writer of BDSM erotica, Abigail Blessing is beautiful, headstrong and about to get her comeuppance. Targeting a flesh and blood Dom for an alleged offense against a friend, Abby will learn the hard way that submission is more than just a word on a page.
Lucas Baines, successful attorney and co-owner of The Trident, is smitten with his mysterious new client until he discovers she's the one who tried to bring down his law firm. In league with Julian Martine, life-long friend and fellow Dom, they set out to teach her a lesson, one that includes a remote island getaway and a bag of toys Santa wouldn't touch.
Their best laid plans are put to the test when revenge turns to passion and their retreat becomes an emotional war zone.
Book 2 in the Wicked Tails Stories | See All Wicked Tails Stories


Disclosure: We receive compensation as an Amazon affiliate. Click here for more information.
Her quality of writing is excellent, her characters well-developed and her dialogue flawless – 5 out of 5 Stars
This is now the third book I've purchased of Kent-Stewart's, the second in the Wicked Tails series and I can't wait for the next! Her quality of writing is excellent, her characters well-developed and her dialogue flawless. Have rarely seen 3 POV's, but this writer pulls it off with precision and humor that is hysterical and touching. As a teacher I notice these things but as a reader who loves well-written erotica and chair-squirming sex scenes, I beg you to keep writing girl.
A Blushworthy, Wickedly Hot Blessing – 5 out of 5 Stars
Your eyes will be glued to the pages of this story about a dynamic duo (2 hot Doms) determined to teach one very willful beauty a lesson in dominance and submission. Abigail is enigmatic, and irresistible, in the ways and means that she wraps not one, but TWO desirable men around her fingers and toes, even as she keeps her heart in lockdown, chained by a bleak past.

What starts off as two lusty, no-commitment weeks in paradise intended to set free – and set fire to – Abigail's suppressed desires turns into a delectable game of enslavement. I love how the author portrayed the hidden vulnerabilities in these passionate, kick-ass characters, striking a balance of emotion, wisecracks and blistering hot sex, but will an affair of three hearts survive when Abby's past comes calling? This is a fast-paced and entertaining read that doesn't skimp on humor, and that utilizes a well-developed voice and style of writing that keeps the story flowing, and the reader engaged and interested in these captivating leads right through to the end.
This story is so awesome you would not want to put it down – 5 out of 5 Stars
After reading "Surviving Sydney" I was hooked to Shelby's books and then after reading "Runaway Brat" the deal was sealed. I could not wait to read "Blessing" Let me tell you, this story is so awesome you would not want to put it down. Sadly everything comes to an end but unlike other stories, this ending is fantastic. Some stories you read, you feel as if you are left in an unsatisfied state because you would like to know what exactly happened to the characters and you don't get the chance to find out so you are left hanging but not with "Blessing" This book is full of hopes, dreams, love, lust, laughter and so much more. I wish I had the correct wording to describe this book but I can only maybe with 1 word that comes to mind, tell you that it is "PHENOMINAL". I love the POV of all the characters. The intense passion and the way their love unfolds! The story is so captivating from page 1 paragraph 1 to the very last. The sassiness of Abby had me laughing uncontrollably. I loved every second of this book. I will definitely recommend it to those who enjoy a good laugh and true love.